Background
There is lots happening in the consumer banking space in Ireland at the moment. Two banks are leaving (KBC and Ulster Bank), and the others are vying for the business.
Thankfully these departures do not impact me because I use Bank of Ireland. However, I really dislike Bank of Ireland for the following reasons:
The mobile app experience is horrible. It uses really old technology. I think that it is simply a web browser wrapper for a mobile website.
The mobile application looks really dated. Perhaps it would have looked good 15 years ago.
The mobile application is extremely cumbersome to use.
The mobile application does not provide any notifications relating to money entering or leaving the account.
The desktop interface is equally horrible – especially on a widescreen display.
The ability to self-service is very poor.
There are no analytics.
Requirements
So I started looking around for a new bank. My initial intention is that the new bank account will complement (rather than replace) my existing bank account. This can obviously change if the new bank account works well.
I do not use a wide range of banking services. Instead there are a few services that need to use a lot. So my criteria are fairly simple:
Support for Google Pay/Google Wallet.
Full support for both mobile and desktop interfaces, because I use both my phone and my computer for banking.
Send and receive money within the Eurozone using IBANs (but not particularly urgently).
Free or low cost for basic services.
Primarily for use in the Eurozone (not only Ireland).
I am not interested in ATM withdrawals, savings schemes, foreign exchange, travel services, crypto currencies, and any general gimmicks.
Options
Irish Banks and Financial Institutions
I looked at the Irish banking options, but none particularly excited me. If I had to use an Irish option, then I think that the Credit Union option looked the most promising.
Revolut
Next on my list was Revolut. I know many people who happily use it, but my general impression is that it is aimed more at teenagers, and that it focuses more on gimmicks rather than core services.
Nonetheless I investigated Revolut, but ultimately there were two things about which I was unhappy:
Russia and the UK feature in its ownership and operations.
The desktop interface appears to only provide a subset of services.
N26
I had heard of N26 before, and it is generally mentioned in reviews of online banks, such as the following:
So I decided to proceed with N26 after reading as many reviews as I could online.
Fun fact: N26 got its name form the number of cubes in a Rubik's Cube!
Opening the Account
The N26 website stated that I would be added to a waiting list before I tried to open my account, but there was no waiting when I opened my account. The process for opening the account was very straight-forward.
I initially opened a free "Standard" account. However, my intention was to then upgrade to a "Smart" account (more about this later). My reasons for updating were that I was interested in:
Spaces
Shared sub-accounts
You can see the differences between the various accounts in Find a plan for you.
Physical Card
You can order a physical card with the Standard account, but I have not dine this yet. I will probably get one as a backup, although I do not currently see any need for it.
One thing that I dislike about all of the cards is that they look so bland!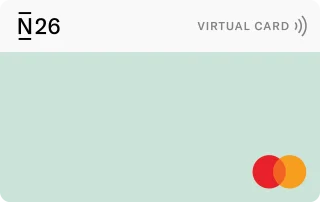 I would love (in other words, pay) to be able to upload my own image for printing on a physical card!
Experience to Date
I have been using the account for a few months now and so far I am loving it!
The mobile and desktop interfaces are lovely. I use the dark themes, and they look great! I love that retailers' logos appear alongside their associated payments. It makes finding a particular payment very easy.
Electronic transfers, online payments, and contactless payments all work flawlessly, and I have had no problems so far. I love that I get notifications on my phone when money enters or leaves my account.
One thing that I am not very clear on is how contactless payments above 50€ work. I have had one purchase that was almost 100€. The merchant told me that it accepted contactless for this, so I used my phone. I was asked for a password, but it was not clear to me which password I should use. I tried one, it did not work, and then I paid using a different method because I did not want to lock my account.
Problem
I have only had one problem so far… My partner tried to open an N26 account at the same time as me, but this application was rejected with an unhelpful message:
We've reviewed the information you provided and we must inform you that according to our current verification procedures, we're unable to offer you an N26 bank account at this time.
It is a useless message, because it does not explain what the problem is, or how it can be solved. This is where a bank with a physical presence would be better than an online bank.
I do not understand what went wrong, because my partner and I have almost identical backgrounds (from a financial perspective).
I pursued this with N26's online support. The assistance was very understanding of my problem, and I was assured that this would be investigated.
As promised, we received a follow-up email a few days later However, it was also equally useless:
We couldn't confirm your application to open a new account, since your user information could not be validated.
I have two theories about the cause of the problem:
My partner's passport seemed to be more reflective than my passport, so maybe the details could not be extracted from it.
Perhaps some version of my partner's address was not matching the current address that we provided.
Conclusions
N26 is great so far! However, unless my partner is able to open an account then I will definitely not upgrade to the Smart account, and it is quite likely that I will move to another bank.
The next step is to try opening an account for my partner by changing some of the details (such as using better lighting for the passport photos, using an alternative postal address).
I will follow-up with another blog post…